250W Electrosurgical Unit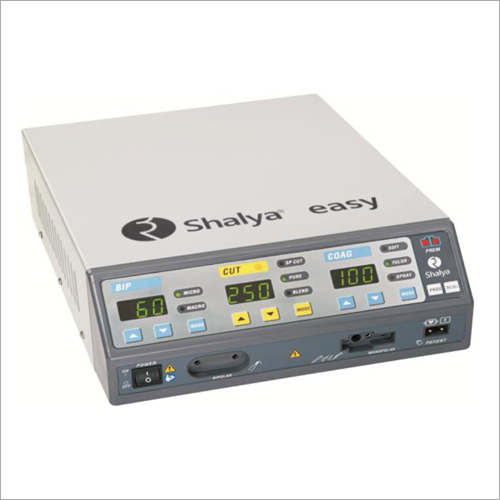 250W Electrosurgical Unit
Product Description
A generator and an electrode-equipped handpiece make up an electrosurgical unit. The device is operated by a foot switch or a switch on the handpiece. Electrosurgical generators can produce a variety of electrical waveforms. Along with the related tissue effects, this waveform alters. During eye surgery, it is routinely used to cut, coagulate, dissect, fulgurate, ablate, and shrink tissue. High-frequency electrical current is used by Lite Electrosurgical Units to coagulate tissue while cutting tissue to control bleeding.
Frequently Asked Questions
What is an electrosurgical unit used for?
High-frequency electrical current is used by electrosurgical units (ESU) to cut tissue and stop bleeding by inducing coagulation. The high-density current's resistance to the tissue results in a heating effect that damages the tissue.
What are the 2 types of electrosurgery?
The two types of electrosurgery most commonly used are high-frequency electrosurgery and electrocautery.
What is the risk of electrosurgery?
Complications resulting from a delay in the diagnosis and treatment of laparoscopic electrosurgical injuries can include organ damage, vessel hemorrhage, perforation, and peritonitis. Electrosurgical devices are the most commonly used pieces of equipment in the operating room.
What is cautery unit for surgery?
An ESU is a device that generates electricity to cut or manipulate tissue. Electrocautery is a type of electrosurgery. It applies an electrical current directly to tissue
Contact Us
Shalya Avenue, W-239, Rabale MIDC,, Navi Mumbai, Maharashtra, 400701, India
Phone :+918045803732